Prevent A Toilet Overflow With These Easy Tips
1/11/2021 (Permalink)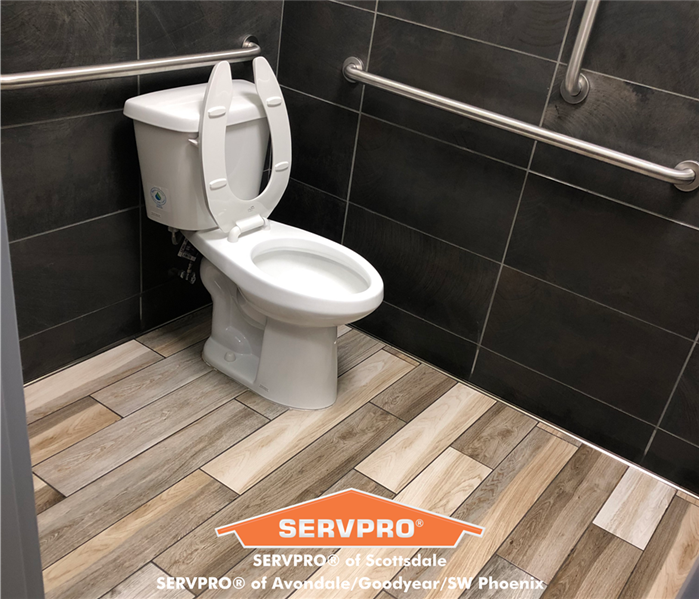 Is your business dealing with a toilet overflow or sewage backup? Give SERVPRO a call at 480-998-7989.
When you're a business owner, you want to make sure every aspect of your business is running efficiently so that no down time in productivity occurs. Overflooding toilets to a business can be hazardous and lead to a business having to close in order to take care of the repairs and cleanup. Here at SERVPRO of Scottsdale, we have seen our fair share of businesses who have experienced toilet overflows. We put together 4 simple tips to try and prevent the likelihood of this type of situation from occurring in your business.
Post Signs
Make sure that you have signs posted in the restrooms that indicate what you can't flush to prevent unwanted clogs from occurring.
Install Waste Bins
Make sure to have the appropriate bins available for non-flushable items such as sanitary napkins and diapers. Be sure to dispose the contents regularly to prevent people from flushing these items in the toilet.
Thinner Toilet Paper
Be sure to provide thinner toilet paper that way it can break down easier and prevent clogs from happening.
Drain Cleanings
Make sure to schedule drain cleanings every month or when permittable. Drain cleanings are especially important for restaurants as grease can build up and lead to a blockage.
We hope that your business can avoid or prevent a toilet backup or overflow from occurring. If you ever do find yourself having to deal with a sewage backup, give SERVPRO of Scottsdale a call at 480-998-7989 and we'll handle the cleanup for you.