Cleanup Tips After a Furnace Flood
4/17/2019 (Permalink)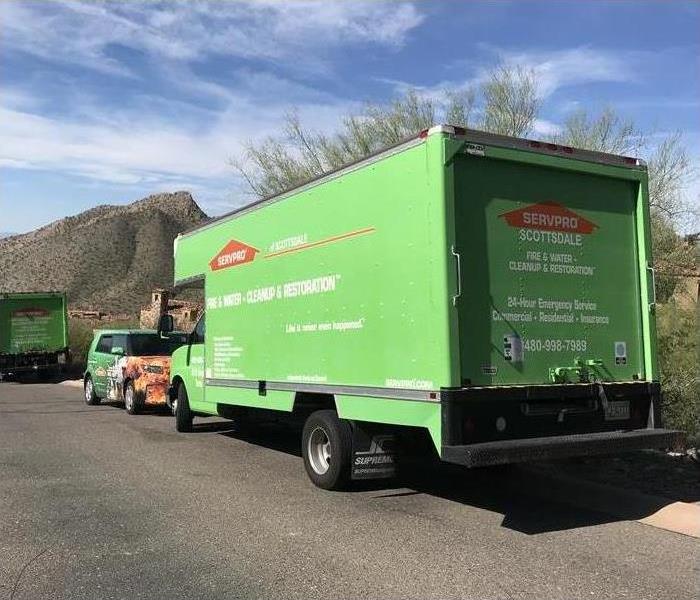 SERVPRO od Scottsdale has the best tools and skills to get the job done right after a furnace flood.
You may not equate furnaces with water damage. After all, furnaces keep you warm when temperatures outside start to drop and have nothing to do with water themselves. However, pipes around your furnace may have a problem, requiring you to take immediate action to correct the issue at your North Scottsdale, AZ, office building. Thankfully, there are some easy ways to mitigate a furnace flood and get things working correctly once more.
How Can This Happen?
Depending on the size of your building, you may have more than one furnace. All of these may be located in areas of your facility where there is an intricate network of pipes and ducts. It's not uncommon for these and other flaws to present themselves and cause a flooded furnace.
Old pipes start to corrode and leak water on the floor by the furnace.
Water leaks into the furnace from underneath due to a weak foundation.
Water drips onto the furnace from above from water in the ceiling.
Initial Steps

Your first task should be to remove the water around the furnace. You can do this by extracting the water with a shop vac or other machine. Once you remove all of the water, make sure you thoroughly the dry the area. Open windows to get ventilation, and set up some fans nearby to get air moving even more.

Sanitize

You may not know how long the water has been leaking and causing the furnace flood. There could be some concerns with mold and other unwanted substances. Thoroughly clean and sanitize the area around the furnace and the outside of the furnace itself.

Know When To Call the Pros

An extensive furnace flood may require a flood mitigation team to get inside the furnace and examine the extent of the damage. The pros have the best tools and skills to get the job done.

Furnaces and water aren't a good combination. However, if a flood damages this appliance and the area around it, try the tricks and call a professional.